BP 791 Vaitape 98730 Bora Bora French Polynesia
(+689) 87 713 484
Français


---
World War II Gun viewpoint
Let us show you an important part of the history and the americans remains witnesses of the past of the World War II guarded by the green mountains of Bora Bora.
During the Second War World II and after the 1941 attack on Pearl Harbor, the United States chose Bora Bora to be one of their military bases for the South Pacific.
Bora Bora island served as a supply base for the U.S. forces for the strategic location and because of its large interior lagoon accessible only by a single pass easily controlled.
If you want to experience Bora Bora's War World II past, you need to see the enormous artillery canons and military bunkers.
These massive naval canons of over 20 feet long were never fired and are quietly rusting under the tropical sun.
Hold on because the road is sharp, mossy and steep!
Americans remains from the World War II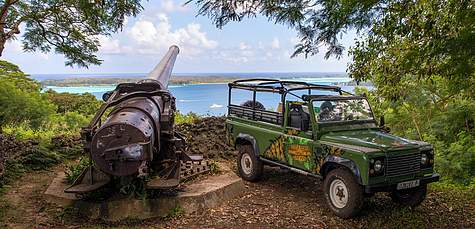 Magnificent view of Tevanui Pass, the only channel in the coral wall that protects the lagoon and the land of Bora Bora.
Drop us a line
For any request do not hesitate to contact us
---